Return of Imelda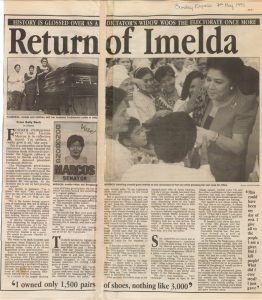 When I wrote this feature about Imelda Marcos for the Sunday Express in May 1995, I had no idea that the following year comedienne Ruby Wax would head to Manila to talk to the former First Lady for her BBC series: Ruby Wax Meets… Ruby was inspired by my article and many of my observations. Scenes in her show that were similar to my words included shots of the photographs of despots on Imelda's baby grand piano that were mixed with our royalty. Ruby also asked Imelda the payoff question I'd asked her which was: 'What would you like your epitaph to read?' Imelda's answer: 'Here lies love'. 
This answer inspired two extraordinary musical talents – David Byrne from Talking Heads and DJ and musician Fatboy Slim – to write a concept album called Here Lies Love, which is about the life of Imelda Marcos. The album was later adapted as a rock musical that premiered off Broadway in 2013.
I've included my original feature, which appeared before newspapers were uploading all their content online, to put these fabulous spin-offs into context.