Ferguson's Gang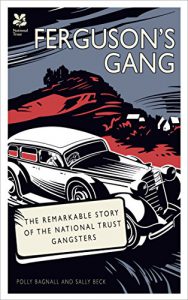 It's 1927. Britain's heritage is vanishing. Beautiful landscapes are being bulldozed. Historic buildings are being blown up. Stonehenge is collapsing. Enter Ferguson's Gang, a mysterious and eccentric group of women who help the National Trust to fight back. The Gang raise huge sums, which they deliver in delightfully strange ways: Victorian coins inside a fake pineapple, a one-hundred pound note stuffed inside a cigar; five hundred pounds with a bottle of homemade sloe gin.
Their stunts are avidly reported in the press, yet somehow these women stay anonymous, hiding behind masks and bizarre pseudonyms such as Bill Stickers, Red Biddy, the Bludy Beershop and Sister Agatha. They carefully record their exploits, their rituals, even their elaborate picnics, but they take their real names to the grave.
With the help of their relatives, colleagues and friends, Sally Beck, and co-author Polly Bagnall, reveal the identities of these unlikely national heroes and tell the stories of their fascinating and often unconventional lives.