Queen of the Street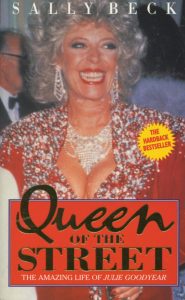 Julie Goodyear was the mightiest star in Britain's number one soap. The undisputed Queen of Coronation Street. Yet, behind the scenes, Julie's life has always been a hundred times more dramatic than that of her spectacular alter-ego, Bet Gilroy (neé Lynch).
This is her story. The true, amazing saga of how she dusted herself down after an unscheduled pregnancy and a shotgun wedding at the age of 17, to become one of the most successful stars in the history of British television.
I spent two years talking to Julie's friends and lovers to create a fascinating portrait of this glorious, passionate woman.
A bestseller in hardback. The paperback edition includes the inside story of Julie's new life after leaving Coronation Street.