A Child Called Hope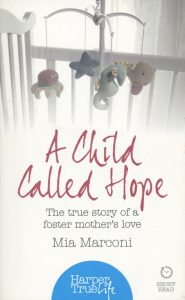 The heartbreaking true story of a baby damaged by her teenage mother's alcoholism, and the foster carer desperate to help her.
The incredible chain of events that began in wartime Italy with the illegitimate birth of her father shaped Mia Marconi's destiny. Protecting him instilled in her an instinct to care for the vulnerable, and after a chance meeting with a chaotic foster family, she knew she had found her calling.
Then came Hope, born prematurely to a fifteen-year-old girl who drank heavily throughout her pregnancy.
Mia is certain she can restore Hope's health, after a year in and out of hospital, but what happens makes her question if she can ever foster again.